Geometrid Moths of Europe 4: Larentiinae 2 (Perizomini and Eupitheciini)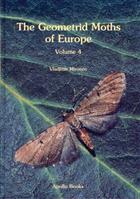 Description:
A total of 151 species are dealt with in this volume (of which 133 Eupitheciini). All species shown 1.5 times natural size on colour plates. Genitalia drawings for all species (male and female). A revision of the European fauna, describing one new species
Other titles from the series : Geometrid Moths of Europe
You may also like...