Giant Silkmoths: Colour, Mimicry and Camouflage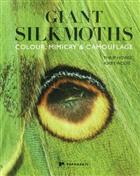 Publisher : Papadakis
Illustrations : col photos
Our customers have given this title an average rating of 5 out of 5 from 1 review(s)
Customer Rating:





Description:
The grandeur and the fascinating natural history of the giant silkmoths and the manner in which they protect themselves are described and illustrated in this lavishly-produced book in such a way that as to enthrall scientists, students, artists and all those interested in wildlife and photography
Customer Reviews
Our customers have given this title an average rating of 5 out of 5 from 1 review(s), Click here to add your own review for this title.
Richard Peigler on 2/2/2015 4:41:52 AM





(5 out of 5)
This is a wonderful book. It has many enlarged (close-up) photos of caterpillars and live moths. The text is engaging, and pertains to defense mechanisms of saturniids. There is no other book on Saturniidae like this. I highly recommend it for individuals and libraries. It is reasonably priced. If you buy it, you will not be disappointed.
You may also like...