Global Biodiversity: Status of the Earth's Living Resources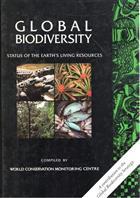 Description:
A Report compiled by the World Conservation Monitoring Centre in collaboration with the Natural History Museum, London and in association with IUCN, UNEP, WWF and the World Resources Institue. The most comprehensive compendium of conservation information ever published. First systematic report on the status, distribution, management, and utilisation of the planet's biological wealth, presenting standardised and comparable data for 205 countries
Condition
Vg. Owner's initials to endpaper.
You may also like...