Green Guide to Butterflies of Britain and Europe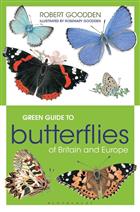 Description:
This guide makes identifying butterflies easy for beginners and amateur naturalists alike. Concise descriptions, accompanied by beautiful colour illustrations, include information on appearance, both of butterflies and caterpillars, habitats and distribution, the best time of year to see the butterflies and the foodplants they visit. A detailed introduction includes colour photographs and information on the life cycle of a butterfly, habitats, studying butterflies, and conservation issues.
You may also like...