Hampshire and Isle of Wight Butterfly Walks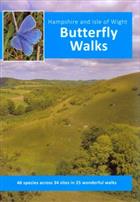 Description:
Includes 46 species. This is the perfect introduction to butterflies and to some of the very best sites for seeing them in both counties. The routes visit 34 outstanding places of wildlife interest and take in wonderful butterfly habitats on heath and down, in woodland and along the coast. The walks draw on the compilers' experience of observing and recording butterflies on both sides of The Solent over the past 30 years.
You may also like...