Britain's Butterflies: A field guide to the butterflies of Great Britain and Ireland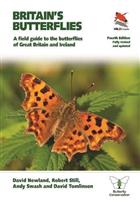 Description:
4th fully revised and updated edition. Comprehensive photographic guide to butterflies found in Britain and Ireland. Colour illustrations of adults and immature stages of all 59 regularly occurring species. Text includes key identification features for each species, with information on behaviour, habitat requirement and population conservation
Other titles from the series : WildGuides
You may also like...