Greenland Falcon Young (Falco candicans) Birds of Great Britain. Vol. 1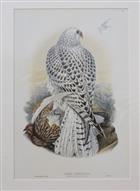 Description:
Limited facsimile edition print by Hill House, London & Melbourne, 1990, from Gould's 'Birds of Great Britain' Vol. 1 (1873). Greenland Falcon drawn by J. Wolf & W. Hart.
The publishers state that the 1990 edition from which these plates are taken '… are exact facsimiles of originals held in the Libraries of the British Museum (Natural History) in London and Tring. They are not reproductions, because no camera was used in transferring the images from the B.M.(N.H.) originals. New printing plates were prepared from these originals for printing on 5 and 6 colour offset presses. The paper used is 130 gsm mat art paper. As facsimiles, the pictures carry faithfully every spot, mark or stain of the originals. From behind glass, the naked eye would be unable to distinguish the original from the facsimile, so accurate is the colour printing. Also as facsimiles, they are exactly the same size as the originals (Imperial Folio: 22" x 15").
Condition
540x370mm, in card-mount (630x460mm) ready for framing.
Other titles from the series : John Gould Facsimile Series (Hill House)
You may also like...