Guide complet des Papillons d'Europe et d'Afrique du Nord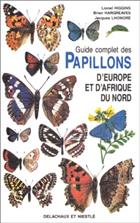 Publisher : Delachaux et Niestle
Published In : Neuchatel
Illustrations : 800+ col illus, 500+ col maps
Description:
Text French. Translated and adapted from Higgins & Hargreaves 'The Butterflies of Britain and Europe' (1983). Species, subspecies, forms and sexual dimorphism illustrated in colour, six colour plates illustrate laravae and pupae of all families of butterflies.
Condition
Vg. Note of date acquired by previous owner to verso of title-page.
You may also like...