Guide pour l'identification des principales espèces de fourmis de Suisse (Misc. Faunistica Helv. 3)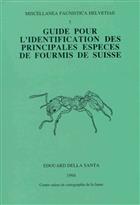 Description:
Text French. Guide to Swiss ant species
Other titles from the series : Miscellanea Faunistica Helvetiae
Click to view all titles in this series...

Hänggi, A.; Stöckli, E.; Nentwig, W.
Price £22.00

You may also like...