Guide to the Dragonflies and Damselflies of Ireland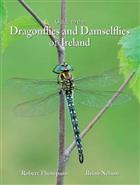 Description:
This is a field guide to the Irish dragonflies and damselflies. Provides a quick reference guide to all the resident and migrant species which have been recorded in Ireland since 1980. The artworks by Richard Lewington on each species page illustrate mature males (occasionally teneral males) and females but are not exactly to scale. The adult length and wingspan indicates the average size of the insect from the head to the tip of the abdomen and the typical wingspan. Brief descriptions are also provided, highlighting the key diagnostic features of each species and the average flight period.
You may also like...