Handbook of Biodiversity Methods: Survey, Evaluation and Monitoring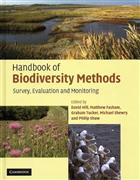 Description:
Standard procedures for biodiversity audits. Part 1: planning: covering method selection, experimental design, sampling strategy, data analysis and evaluation. Part 2: describes survey, evaluation and monitoring methods for a broad range of habitats. Part 3: considers species and provides information on general methods before addressing specific methods of survey and monitoring for the major taxonomic groups
You may also like...