Hawkmoths of the World An Annotated and Illustrated Revisionary Checklist (Lepidoptera; Sphingidae)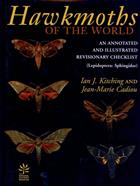 Description:
A comprehensive checklist, with species descriptions by two international authorities on hawkmoths. Covering more than 3,800 family-, genus-, and species-group taxa. Contains all nominal taxa as well as names of aberrations and forms. Overview of morphology and biology. New system of higher classification based on results of recent phylogenetic research. Two species and two subspecies described as new.
You may also like...