Heaths and Moorland: Cultural Landscapes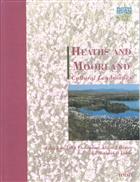 Description:
This book celebrates the heaths and moorlands of Scotland, and also the work of the distinguished ecologist Professor Charles Gimingham, who has made important contributions to the field. Topics include: international status, changes over thousands, hundreds and tens of years, the dynamic nature of the vegetation, birds and invertebrates, and the impact of man.
Condition
Vg (spine faded).
Other titles from the series : Scottish Natural Heritage
You may also like...