The State of Scotland's Environment and Natural Heritage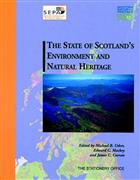 Description:
Provides an account of a conference held in September by Scottish Natural Heritage and the Scottish Environmental Protection Agency to examine the present state, trends and future prospects for the environment, and to explore the scope for increasingly sustainable solutions to environmental problems.
Condition
Spine faded. Vg.
Other titles from the series : Scottish Natural Heritage
You may also like...