Hermann's Tortoise. Testudo hermanni, T. boettgeri and T. hercegovinensis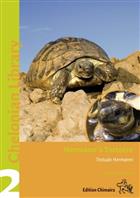 Series : Chelonian Library
Volume: 2
Publisher : Chimaira
Published In : Frankfurt a.M.
Illustrations : 180 col photos, distribution maps
Description:
2nd edition. Information on the distribution, biology, ecology and conservation of the Testudo hermanni species group.
Other titles from the series : Chelonian Library
Click to view all titles in this series...

Hennig, A.S.
Price £31.50

Vinke, S.; Vetter, H.; Vinke, T.; Vetter, S.
Price £28.95

You may also like...