Histories of Nations: How Their Identities Were Forged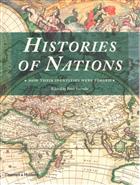 Description:
This book provides a unique lens through which to view the modern world: Twenty-eight insider accounts of national histories, including the United States, France, India, Iran, Great Britain, Turkey, Iran, etc.
Condition
As new, still in publisher's cellophane.
Other titles from the collection : Library of Pamela Gilbert
You may also like...