Honey Bees of Borneo: Exploring the Centre of Apis Diversity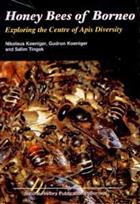 Description:
Fascinating guide to the diversity of honey bees found in Borneo. Their social life, honey stores, defence strategies are described. Colour photographs show the giant honey bees (Apis dorsata) in the canopy of the highest Koompassia trees. Unique in the animal kingdom are magnificent assemblies of thousands of drones which, far from the safety of their nests, circle high in the air waiting for the arrival of a single virgin queen. The outstanding taste and quality honey of indigenous Asian bees is acknowledged. The knowledge and awareness disseminated by this book will undoubtedly help to protect native honey bees and their habitats in Borneo and elsewhere
You may also like...