Hygiene in Buildings: A guide to health, hygiene and industrial cleaning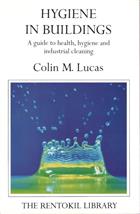 Series : The Rentokil Library
Publisher : Rentokil
Published In : East Grinstead
Illustrations : col frontis, 119 col photos, 96 b/w figs + photos
Description:
An alphabetical glossary of terms used in the field. A comprehensive reference book, which is of interest to all those involved in catering and food processing, cleaning and sanitation, and indeed all people who deal with the problems of safeguarding public health. Subjects covered include microbiology, notifiable diseases, pest control, chemistry of cleaning materials and disinfectants, equipment found in the catering trade, sanitary engineering and industrial cleaning, and matters relating to legislation and the organisation of environmental health.
Other titles from the series : The Rentokil Library
You may also like...