Hymenoptera of America North of Mexico: Synoptic Catalog [and] First Supplement [and] Second Supplement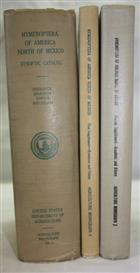 Description:
USDA Agriculture Monograph No. 2.
Condition
3 vols, cloth, lightly rubbed. Vol. 1, binding partly broken between title page and page 1. Ex-lib.: ink and blind stamps to endpapers + title pages only. Good.
You may also like...