I Macrolepidotteri della Valle di Susa Italia Nord-occidentale (Alpi Cozie-Graie)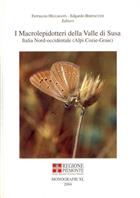 Description:
Text Italian. Results of the authors research on the Macrolepidoptera fauna in the Susa Valley (North Italy, Piedmont) 1996-2003. Catalogue includes information on 1159 species
Other titles from the series : Monografie/Museo Reg. Sci. Nat., Torino
You may also like...