Insect Migration (New Naturalist 36)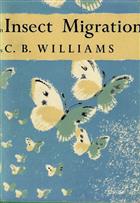 Description:
First edition.
Condition
8vo, orig. green buckram. Good in d/w (d/w sealed in non-removable, self-adhesive protective cover and also now placed in removeable protective sleeve; spine slightly faded). Previous owner's name stamp and small ink number to endpaper.
Other titles from the series : New Naturalist Main Series
You may also like...