Insects of East Africa Pocket Guide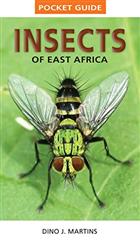 Description:
First field guide to East African insects. Covers 400 common and interesting insects found in the region. The focus is on identification, but the book also offers an insight into life cycles and behaviour. Full-colour images accompany each species account.
Other titles from the series : Struik Pocket Guide
Click to view all titles in this series...

Picker, M.; Griffiths, C.
Price £7.50
You may also like...