Insects of South Africa Pocket Guide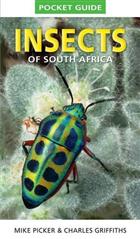 Description:
This guide includes a range of common and interesting insects from South Africa, making it possible to identify a particular insect to at least the family level. One or more family representatives are shown for each family covered. Each description gives key identification features and is accompanied by a photograph and distribution map. An illustrated quick-reference guide on the inside front and back covers makes it quick and easy to navigate to the right insect group.
Other titles from the series : Struik Pocket Guide
Click to view all titles in this series...

Martins, D.J.
Price £7.50
You may also like...