Insects of North America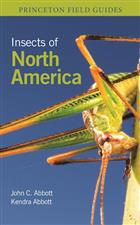 Description:
The ultimate photographic field guide to North American insects This amazing field guide enables you to identify all 783 families of insects currently recognized in the United States and Canada. Richly illustrated with more than 3,700 stunning photos along with keys to families for many of the orders, Insects of North America features a comprehensive introduction that discusses classification and nomenclature, insect diversity, global threats, the latest collecting and curatorial techniques, and the many ways these remarkable organisms impact society. Combined with the in-depth taxonomic coverage, this is the essential resource for both professionals and amateurs interested in the most diverse group of animals on the planet.
* Covers all 783 insect families known to occur in the United States and Canada; * Features more than 3,700 color photos, with nearly every photo identified to species level; * Includes an illustrated glossary for easy reference in the field; * The first field companion of its kind since the publication of the Peterson guide in 1970; * Ideal for entomology courses of all levels; * An invaluable resource for anyone interested in insects
Other titles from the series : Princeton Field Guides
You may also like...