Invertebrates for Exhibition: Insects, Arachnids and other Invertebrates suitable for display in Classrooms, Museums and Insect Zoos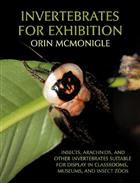 Description:
Details of husbandry and display of several hardy, attractive and interesting species from different groups, which can be used to attract greater appreciation for the wonders of the invertebrate world. Practical information providing an excellent start to any museum, zoo or classroom that is considering an invertebrate display. From butterflies and beetles to scorpions and slugs, there are plenty of spineless wonders that are just as interesting in beauty, shape and behaviour as the larger popular megafauna more commonly on display
You may also like...