Iron Age Communities in Britain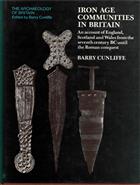 Description:
An account of England, Scotland and Wales form the seventh century BC until the Roman conquest.
Condition
Vg in d/w (fading to spine).
Other titles from the series : Archaeology of Britain
Click to view all titles in this series...

You may also like...