Kenya: A Natural History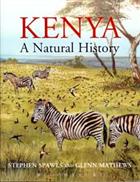 Description:
This new Poyser title covers the natural history of this diverse and beautiful African country. It provides a broad and yet detailed overview of all aspects of Kenya's natural history and environment.
Thirteen chapters cover geology, hominids and fossils, peopling, landscape, climate and weather, plants, mammals, birds, reptiles, amphibians, fish, invertebrates, the marine world and conservation. The first book to span the gap between a general guidebook and a detailed scientific monograph
Other titles from the series : Poyser Monographs
You may also like...