Key to the Genera of Australian Macrolichens (Flora of Australia Supplementary Series 23)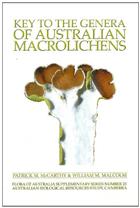 Description:
Macrolichens are not necessarily large lichens. Instead, the term has been used traditionally for lichens other than crustose types, i.e. scaly, leafy or shrubby lichens, usually with discrete organs of attachment to the substratum; in other words, distinctly three-dimensional, in contrast to their closely appressed or immersed, two-dimensional relatives. This key to the genera of Australian macrolichens follows recently published guides to apothecial crusts and pyrenocarps. It covers all 135 genera of macrolichens known to occur in Australia, and illustrates two-thirds of them in full colour. To ease identification, it uses mostly traits that are visible with the naked eye or a 10× hand lens, and for all genera it adds information on habitat, distribution within Australia, and literature references.
Other titles from the series : Flora of Australia Supplementary Series
Click to view all titles in this series...

McCarthy, P.M.
Price £39.50
You may also like...