La Gerusalemme Liberata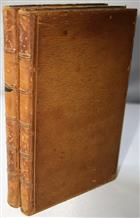 Description:
Contemporary full calf binding. Torquato Tasso, an Italian Renaissance poet is best known for Gerusalemme Liberata. The main subject of this work being the capture of Jerusalem by the crusaders, lead by Godfrey of Boulogne. Text Italian
Condition
Ownership names on title page and fly leaf
You may also like...