Les Peuplement de Copépodes Harpactïcoides (Crustacea) des Sédiments meubles de la Zone intertidale des Côtes Charentaises (Atlantique)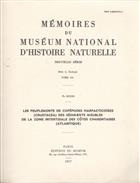 Description:
Text French. Memoires du Museum National d'histoire naturelle NS, Serie A, Zoologie, Tome 104.
Condition
Wrappers. Pages partly unopened. Fine.
Other titles from the series : Memoires du Museum national d'Histoire naturelle
Click to view all titles in this series...
Perez Farfante, I.; Kensley, B.F.
Price £48.00

Other titles from the collection : Dr Richard Hamond's Library
You may also like...