Penaeoid and Sergestoid Shrimps and Prawns of the World: Keys and Diagnoses for the Families and Genera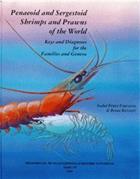 Description:
Presents a study of the taxonomy of the penaeidean shrimps of the world. This group of shrirnp includes many of the commercially important marine species of the tropics and subtropics, as weil as many of the species that constitute a major link in the food chain of the oceans. The works present keys for the identification of seven families (the Aristeidae, Benthesicymidae, Penaeidae, Sicyoniidae, Solenoceridae, Luciferidae, and Sergestidae) and 56 genera, as weil as diagnoses that attempt to defi ne these taxa with scientific clarity. Also included are lists of the species and subspecies currently included in these genera, along with their geographie distribution, and a full bibliography.
Other titles from the series : Memoires du Museum national d'Histoire naturelle
Click to view all titles in this series...


You may also like...