Les Procris de France / French Forester Moths (Lepidoptera, Zygaenidae, Procridinae & Chalcosiinae)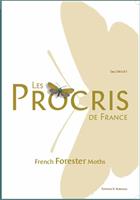 Description:
Text French/English. Up-to-date information on the 14 Procris species recorded from mainland France. Includes illustrated keys allowing accurate identification to species. This work is based on more than 15 years of data gathering from public and private collections, and on verification of specimens by genitalia examination, leading to a national mapping of each species. Species descriptions include morphology, biology, biotopes, distribution, status and potential threats, with illustrations of male and female genitalia, distribution map, phenology chart, including data on altitude, watercolour showing a pair of set specimens and colour photos of adult and larva of most species taken in the field, and also for some species, the foodplant and typical habitat.
You may also like...