Looking at Birds: An Antidote to Field Guides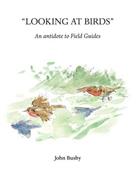 Description:
This is the first title in a new series (Wildlife Art Techniques) of books in which masters of wildlife art share many of their techniques with our readers. In this volume artist John Busby explains by examples how important it is to gather information direct from birds in the field . These vital characteristic elements (jizz) of the bird have the power to change a few lines on paper into an exciting representation of a living ,moving and behaving bird.
Other titles from the series : Wildlife Art Techniques
Click to view all titles in this series...
You may also like...