The Pond Book: A Guide to the Management and Creation of Ponds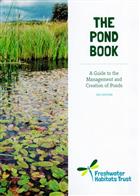 Description:
Third edition. The most comprehensive guide available for the creation and management of wildlife ponds. Using the latest research, this guide shows why ponds are so valuable for people, landscape and for wildlife, it takes a fresh look at a wide range of management issues and help you decide on the best solutions for your pond.
You may also like...