Lost Land of the Dodo: An Ecological History of Mauritius, Reunion & Rodrigues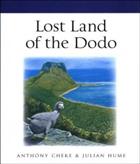 Description:
Following discovery of the Mascarene Islands in the Indian Ocean in the 1500s and their subsequent colonisation by man, rapid ecological change lead to the extinction of many of the islands unique vertebrates, including the Dodo . This book provides the first full ecological history of the Mascarene Islands as well as the specific story of each extinct vertebrate. Illustrated by Julian Hume's superb colour illustrations
You may also like...