Managing your Woodland for Wildlife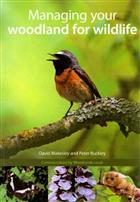 Description:
Offers practical advice for those managing smaller areas of woodland for wildlife. Introduction to different woodland types - woodland plants, insects, birds, mammals, reptiles, fungi and lichens and how different management strategies will affect them. The creation of woodland open space and other ways of improving woodland for wildlife, from conserving deadwood to putting up bat boxes. This book will appeal to small woodland owners and others with an interest in woodland management, including land owners, conservation organisations, foresters, consultants, planners, local authorities and community groups
You may also like...