Manual of Afrotropical Diptera. Vol. 3 (Brachycera-Cyclorrhapha, excluding Calyptratae - Higher Diptera)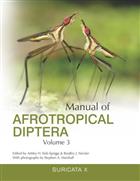 Description:
This volume, the third in the series, includes family chapters by the world's leading experts, dealing with 51 of the 108 families of flies that occur in the region. It covers the Brachycera–Cyclorrhapha, excluding Calyptratae (sometimes termed the higher Diptera). Each chapter includes a diagnosis of the family, sections dealing with biology and immature stages, economic significance, classification and identification, an identification key to genera (if two or more) and a synopsis of the fauna section, arranged genus by genus alphabetically. The text is richly illustrated with over 3,440 illustrations, including 1,746 colour and 101 black and white images and 1,600 line drawings of flies.
Third of a four-volume work, a collaboration of over 90 international experts on Diptera, is the first-ever synopsis of the 108 families of flies known from the Afrotropical Region and includes discussions on biology and immature stages, economic importance, classification, identification to the genus level, as well as a synopsis of each genus. This work provides the basics for understanding the diversity of a major order of insects in a large tropical and sub-tropical region and is the first such synopsis of its kind for any major insect order occurring in the Afrotropics.
Suricata, vol. 5.
Other titles from the series : Manual of Aftrotropical Diptera
You may also like...

Warakagoda, D.; Hettige, U.; Warakagoda, H.
Price £13.99
(Save £3.00)

Mittermeier, R.A.; Langrand, O.M.; Wilson, D.E.; Rylands, A.B.; Ratsimbazafy, J.; Reuter, K.E.; Andriamanana, T.; Louis, E.E.; Schwitzer, C.; Sechrest, W.
Price £24.99

Hölldobler, B.; Kwapich, C.L.
Price £55.45
(Save £4.50)