Marine Fishes of South-East Asia: A Field Guide for Anglers and Divers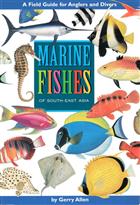 Description:
A pictorial guide, with outstanding illustrations by Roger Swainston, the book highlights distinguishing features in accompanying text, together with common and Latin names. A guide to families based on outline drawings precedes each species section.
Condition
From the library of Prof. J. Green (1928-2016) with his name to half-title. Vg.
Other titles from the collection : Prof Jim Green
You may also like...