Mittelungen der Münchner Entomologischen Gesellschaft. XXX Jahrgang 1940. Heft 1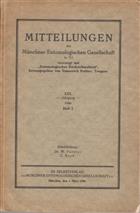 Description:
Includes a number of papers on Tenebrionidae and other Coleoptera: Gebien, H.: Die von Dr. Trinkler in Tibet gesammelten Tenebrioniden; Franz, H.: Vorarbeiten zu einer Monographie der Tychiini; Bollow, H.: Monographie der palaearktischen Dryopidae; Koch, C.: Über einige neue und interssante, von Johannes Roth 1857 im Wadi Arabah gesammelte Tenebrioniden; Kaszab, Z.: Revision der Tenebrioniden-Tribus Platyscelini; Koch, C.: Phylogenetische, biogeographische und systematische Studien über ungeflügelte Tenebrioniden; Husler, F.& J.: Studien über die Biologie der Elateriden; Gebien, H.: Katalog der Tenebrioniden
Condition
Vg.
You may also like...