Mollusca: Cimidae - Asperspinidae: Blötdjur: Sidopalpssnäckor – taggsäcksnäckor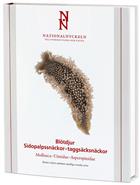 Publisher : ArtDatabanken
Published In : Uppsala
Illustrations : col illus
Description:
Text Swedish with species summaries in English. Includes 146 species, mostly marine, (subclass Heterobranchia) from Sweden. Presented systematically with descriptions and illustrations. Identification keys for all included species. In addition, there is a longer introduction to the subclass Heterobranchia as well as overall presentations of the infraclass Euthyneura.
Other titles from the series : National Encyclopedia to Swedens Flora & Fauna
You may also like...