Momphidae, Batrachedridae, Stathmopodidae, Agonoxenidae, Cosmopterigidae, Chrysopeleiidae Microlepidoptera of Europe 5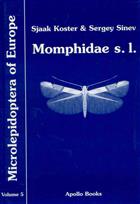 Description:
These six families are reviewed, with short diagnoses of all 163 species, and watercolour drawings of adults. One new genus and 10 new species described. A discount is available if placing a subscription order for the series (Subscription price £67)
Other titles from the series : Microlepidoptera of Europe
You may also like...