Monographie des Geometriden-Taxon Dyscia (Insecta, Lepidoptera): Systematische Revision, Verbreitung, Bionomie und phylogenetische Analyse der Arten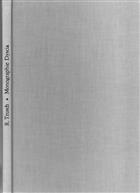 Description:
PhD Thesis, University of Potsdam. Text German. Plates illustrate genitalia preparations, set specimens, photographs of larvae and biotopes.
Condition
Cloth bound. Vg. From the library of British lepidopterist, Barry Goater, with his bookplate and inscribed to him by the author.
Other titles from the collection : Library of Barry Goater
You may also like...