Moths of Africa. Systematic and Illustrated Catalogue of the Heterocera of Africa. Vol. 2: Erebidae subfamilies Rivulinae, Hypeninae, Herminiinae, Hypenodinae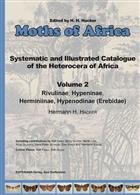 Description:
In this volume 44 species of the subfamily Rivulinae, 198 of Hypeninae, 290 of Herminiinae and 30 of Hypenodinae are described and figured. The review includes descriptions of 1 genus, 252 species and 6 subspecies new to science. To date no systematic survey of the moths of these four subfamilies of the Erebidae from the African Continent has been undertaken - either a faunistic analysis, or even a check-list of species. For each species, a diagnosis and the geograpical range are given, and when known, details of habitat preference and biology. All species are presented with their full name and references to the original description, with fully referenced synonyms.
Special emphasis is given to descriptions and coloured illustrations, and to figures of genitalia features of both sexes, which were selected from more than 5.000 dissections. Male and female genitalia of nearly all species are illustrated, and in some cases distribution maps are provided. DNA sequencing was performed for approx. 600 Ethiopian African specimens, following Ratnasingham & Hebert (2007) using the Kimura 2 Parameter model. All species are illustrated in colour and these illustrations alone will serve as a means of identification for those species identifiable by external characteristics.
Other titles from the series : Moths of Africa
Click to view all titles in this series...
Hacker, H. (Ed.)
Price £149.95
You may also like...