Moths of Victoria Pt 9: Noctuoidea (C) (Noctuidae (part)) - Cutworms and Allies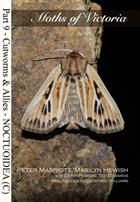 Description:
Includes a CD with 440 additional pages with information, biology and distribution for each species, 50 pages of updates for previous parts, full Checklist for Pt 9 and full index for the series . This is the final part to cover the Noctuoidea, and completes the family Noctuidae. 220 species are included.
Other titles from the series : Moths of Victoria
You may also like...