Mouches ŕ  sang: Atlas des tabanides de France (genres Therioplectes, Hybomitra, Atylotus, Tabanus, Glaucops, Dasyrhamphis)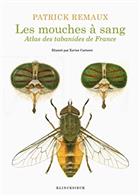 Description:
Text French. Guide to the identification of the horseflies (Tabanidae) of France. Beautifully illustrated by Xavier Carteret, includes identification keys.
Other titles from the series : De Natura Rerum
Click to view all titles in this series...
You may also like...