My Garden in Spring [... Summer] [Autumn and Winter]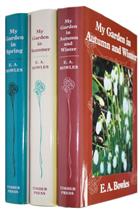 Description:
Facsimile reprints of the author's trilogy of gardening classics (first published by T.C. & E.C. Jack in 1914), with the addition of a new Foreword by Brigadier Andrew Parker Bowles, new Prefaces by Charles Elliott and Nomenclatural Update by Peter Barnes.
Condition
3 vols, orig. bds. Fine in d/w's.
Other titles from the collection : Keith Hyatt
You may also like...