Natural Selection and Beyond: The Intellectual Legacy of Alfred Russel Wallace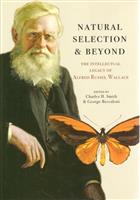 Description:
Collection of essays which consider in depth aspects of the life and work of the co-discoverer of natural selection. Alfred Russel Wallace (1823-1913) was one of the late nineteenth century's most potent intellectual forces. His link to Darwin as co-discoverer of the principle of natural selection alone would have secured him a place in history, but he went on to complete work entitling him to recognition as the 'father' of modern biogeographical studies, as a pioneer in the field of astrobiology, and as an important contributor to subjects as far-ranging as glaciology, land reform, anthropology and ethnography, and epidemiology. Beyond this, many are coming to regard Wallace as the pre-eminent field biologist, collector, and naturalist of tropical regions. Add to that the fact that he was a vocal supporter of spiritualism, socialism, and the rights of the ordinary person, and it quickly becomes apparent that Wallace was a man of extraordinary breadth of attention. Yet his work in many of these areas is still not well known, and still less recognized is his relevance to current day research almost 100 years after his death.
Condition
Fine copy in d/w. As new.
You may also like...