Natural Woodland: Ecology and Conservation in Northern Temperate Regions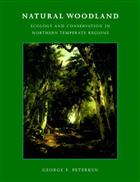 Description:
Natural Woodland describes how woodlands grow, die and regenerate in the absence of human influence, and the structures and range of habitats found in natural woods. The underlying theme is that natural woodlands should form a basis for forest management, policies and practices. George Peterken compares the ecology of both North American and European forests, to produce a fascinating account of woodland natural history for all those concerned with woodland management and ecology
Condition
You may also like...