Neotropical Diversification: Patterns and Processes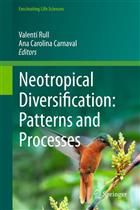 Description:
This book provides a comprehensive overview of the patterns of biodiversity in various neotropical ecosystems, as well as a discussion on their historical biogeographies and underlying diversification processes. All chapters were written by prominent researchers in the fields of tropical biology, molecular ecology, climatology, paleoecology, and geography, producing an outstanding collection of essays, synthetic analyses, and novel investigations that describe and improve our understanding of the biodiversity of this unique region. With chapters on the Amazon and Caribbean forests, the Atlantic rainforests, the Andes, the Cerrado savannahs, the Caatinga drylands, the Chaco, and Mesoamerica - along with broad taxonomic coverage - this book summarizes a wide range of hypotheses, views, and methods concerning the processes and mechanisms of neotropical diversification. The range of perspectives presented makes the book a truly comprehensive, state-of-the-art publication on the topic, which will fascinate both scientists and general readers alike.
Other titles from the series : Fascinating Life Sciences
You may also like...