New Zealand Journal of Zoology Vol. 16(4)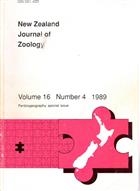 Description:
Proceedings of a symposium held at the National Museum, Wellington, New Zealand, May 1988, to discuss the relevance of panbiogeography to New Zealand natural history.
Condition
Covers a trifle worn. From the library of Prof. C.J. Humphries with his signature to title-page.
Other titles from the collection : Library of Prof. Chris Humphries
You may also like...

Goodfellow, P.
Price £12.99